Internet
Why Mr. Modi Launched Ujjwala 2.0 in UP
UP Chief Minister Yogi Adityanath and Petroleum Minister Hardeep Singh Puri also participated in this program through virtual medium. A free cooking gas connection and subsidized refill can go a long way in earning votes. The Bhartiya Janata Party (BJP) knows it well.
Prime Minister Narendra Modi on Tuesday launched the Ujjwala 2.0 scheme through video conferencing. Under this, free LPG gas connection, one month free LPG gas cylinder and hot plate will also be given to the beneficiary women. PM Modi handed over the first gas connection under the scheme to the beneficiary women in Mahoba district of UP through virtual medium.
UP Chief Minister Yogi Aditya Nath and Petroleum Minister Hardeep Singh Puri also participated in this program through virtual medium. In the first phase of the Ujjwala scheme, more than eight crore gas connections have already been given to women free of cost.
A free cooking gas connection and subsidized refill can go a long way in earning votes. The Bhartiya Janata Party (BJP) knows it well.
As, 2022 UP Assembly election are ahead, Prime Minister Narendra Modi has again chosen the state for the launch of the second edition of the Prime Minister Ujjwala Scheme. Uttar Pradesh Chief Minister Yogi Aditya Nath thanked the PM for choosing UP for the second phase of the scheme. Back in 2016, the first phase of the scheme was launched at Ballia district in Uttar Pradesh before elections, under which 80 million people in the country received liquefied petroleum gas (LPG) connections free of cost.
With 18 per cent connections, UP has the largest share of the scheme, according to data released by the Ministry of Petroleum & Natural Gas in June 2019. more beneficiaries means more votes in elections. Over 14.7 million families in UP were benefitted under Ujjwala 1.0, which covered nearly half the state's population, and got these connections by 2019. According to a UP government spokesperson, in the first phase of the scheme, 1,47,43,862 LPG connections were made available to the poor families of the state. Those families who were left out in the first phase of the Ujjwala scheme will be benefited in the second phase, he said.
The launch of Ujjwala 2.0 could be a masterstroke to woo the marginalized population of the state just ahead of the Assembly polls. The first refill and hotplate would be provided free of cost to beneficiaries under the scheme.
This is the second such initiative by the BJP after the state government started its longest and biggest exercise of distributing free food grain to people on August 5. Within just four days, the UP government has distributed free food grain to over 113.2 million beneficiaries under the Pradhan Mantri Garib Kalyan Anna Yojana (PMGKAY). More than 566,000 tones of food grains have been distributed so far.

According to political experts, the scheme can play a big part in UP Assembly elections in 2022. The scheme first launched from Ballia in UP is said to have played a major role in Bhartiya Janata Party's stupendous victory in the state assembly elections in March 2017.
"Of the nearly eight crore beneficiaries of the Ujjawala Yojana, 2.54 crore families benefitted in UP alone," Nadda told party workers in Lucknow and asked them to popularize these schemes. The BJP leadership has been telling the cadres to highlight how UP has been the biggest beneficiary of the various initiatives of the center and how UP has also launched a campaign to cover all eligible poor, still not enlisted in the various social security schemes. For instance, under Ayushman Bharat, Nadda said more than 50 crore people across the country had got annual ₹5 lakh medical insurance cover and 2.54 crore benefitted from it.
The campaign is running both physically and virtually, The steps to market these initiatives include putting a booklet detailing various government schemes in waterproof bags provided by the Yogi Aditya Nath government to all beneficiaries of the Pradhan Mantri Garib Kalyan Anna Yojana (PM-GKAY) and asking cadres to visit rural households to enlist beneficiaries.
A booklet titled 'Iradey nek, kaam anek (honest intentions, several achievements) prepared by chief minister Yogi Aditya Nath's government too has been distributed to party lawmakers for ready access, "recall and repeat" among the masses.
CM Yogi Adityanath handed over 10 LPG connections to women in Mahoba to mark the beginning of the programm. On the occasion of World Biofuel Day which is also celebrated today, Chief Minister Adityanath and Union Petroleum and Natural Gas Minister Hardeep Singh Puri would inaugurate the Biofuel Exhibition organized at the parade ground of the Police Lines in Mahoba district. Compressed biogas plant being set up in Muzaffarnagar district will also be inaugurated on this occasion,
What is Pradhan Mantri Ujjwala Yojana?
The Pradhan Mantri Ujjwala Yojana is a scheme run by the Ministry of Petroleum and Natural Gas that aims to link women from BPL households to LPG.
In April 2018, the scheme was expanded to cover women from seven additional groups (SC/ST, PMAY, AAY, Most Backward Classes, Tea Garden, Forest Dwellers, and Islands). The aim was increased to eight crores LPG connections in the second phase.
What is Ujjwala 2.0?
In this fiscal year, the Modi government would deliver roughly 1 crore gas connections to the needy, along with a free refill and a stove, as part of Ujjwala 2.0. Union finance minister Nirmala Sitharaman declared in this year's annual budget that the scheme would be expanded to 1 crore new beneficiaries in 2021-22. This scheme has already benefited more than 8 crore people.
Under the Ujjwala 2.0 scheme, the beneficiaries will not have to pay any gas connection charges, the first gas cylinder refill and hotplate will also be available free of cost. There will be no need to give ration card or residence certificate in Ujjwala 2.0. For 'Family Declaration' and 'Residence Certificate', if the beneficiary himself gives a self-declaration, the same will be considered sufficient.
click on the link to apply in ujjwala scheme   http://pmuy.gov.in
Is the Ujjwala scheme a success?
The Comptroller and Auditor General of India (CAG) has expressed concerns over National Democratic Alliance (NDA) government's Pradhan Mantri Ujjwala Yojana in terms of low consumption, diversion and considerable delay in supply of cylinders. The report has highlighted the risk of diversion of domestic cylinders for commercial use, As 1.98 lakh beneficiaries had an average consumption of more than 12 cylinders. similarly 13.96 lakh beneficiaries consumed three to four refills in a month.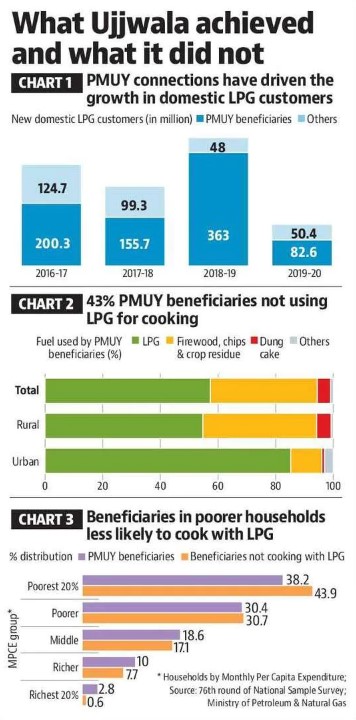 Audit noticed that out of 3.98 crore LPG connections, 1.6 crore (42%) connections were issued only on the bases of beneficiary Aadhar which remained a deterrent in duplication. Delay of more than 365 days in the installation of 4.35 lakh connections against the stipulated time period of seven days.
Data analysis also revealed that 8.59 lakh connections were released to beneficiaries who were minnor as per the SECC-2011 data which was in violation of PMUY guidelines. There has been decline in refills, the low consumption of refills by 92 lakh loaned consumers hindered recovery of the recovery of the outstnding loan of 1,234.71 crore Rupees.
many other media reports has also exposed the reality of the scheme by visiting on grounds.